CONGRATULATIONS CORNER
Southern Local inducted new members into the their local Chapter, Friday, March 17,2023.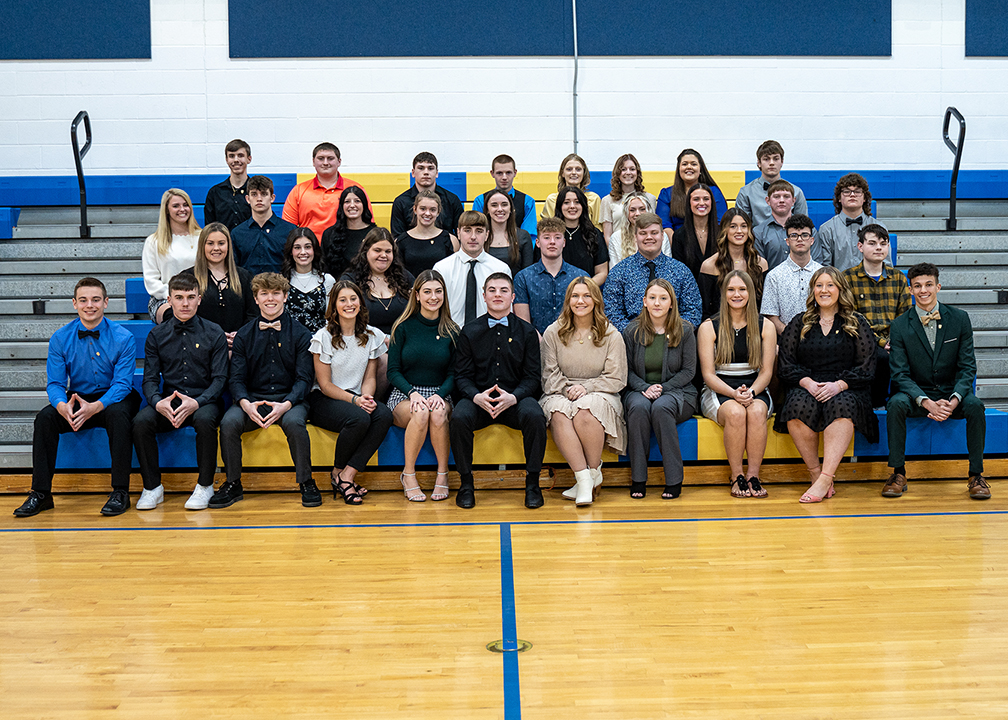 Southern Local NHS Chapter inducts 27 new members Friday, March 17
Row 1 (l to r): Zack Tribelo, Aiden Spahlinger, Cooper Edmiston, Andrea Rodgers, Grace Brothers, Noah Perfetto, Zoey Almy, Shirley Adkins, Jessica Lafferty, Elizabeth Wilson, Cameron Sloan
Row 2: Kya McCulley, Katie Calderon, Rebecca Hawke, Payton Hersman, Charlie Price, Gavin Tribelo, Olivia Kerns, Brady Ketchum, Corbin Stillwell
Row 3: Aleah Bach, Maddox Dickey, Rylee Mellott, Ashley Shroades, Esther Forbes, Josie Stanley, Lillian Patterson, Paige Riggs, Adyen Frischkorn, Aiden Brothers
Row 4: Seth Hawk, Hunter Robinson, Gabe Blissenbach, Evan Haught, Alexis, Singer, Lindsay Bregar, Natalie DeSellem, Tyler Rawling,
CONGRATULATIONS NHS 2023 INDUCTEES
Monday, February 27, the Southern Local National Honor Society Chapter welcomed 27 inductees. The induction ceremony will be held Friday, March 17 at 6pm in the high school cafeteria.
The 2023 inductees include: seniors; Katie Calderon, Payton Hersman, Rebecca Hawke, Olivia Kerns, Brady Ketchum, Kya McCulley, Charlie Price, Corbin Stillwell, Gavin Tribelo juniors; Aleah Bach, Gabe Blissenbach, Lindsey Bregar, Aiden Brothers, Natalie DeSellem, Maddox Dickey, Alexis Ensinger, Esther Forbes, Ayden Frischkorn, Seth Hawk, Evan Haught, Rylee Mellott, Lillian Patterson, Paige Riggs, Tyler Rawlings, Hunter Robinson, Ashley Shroades, Josie Stanley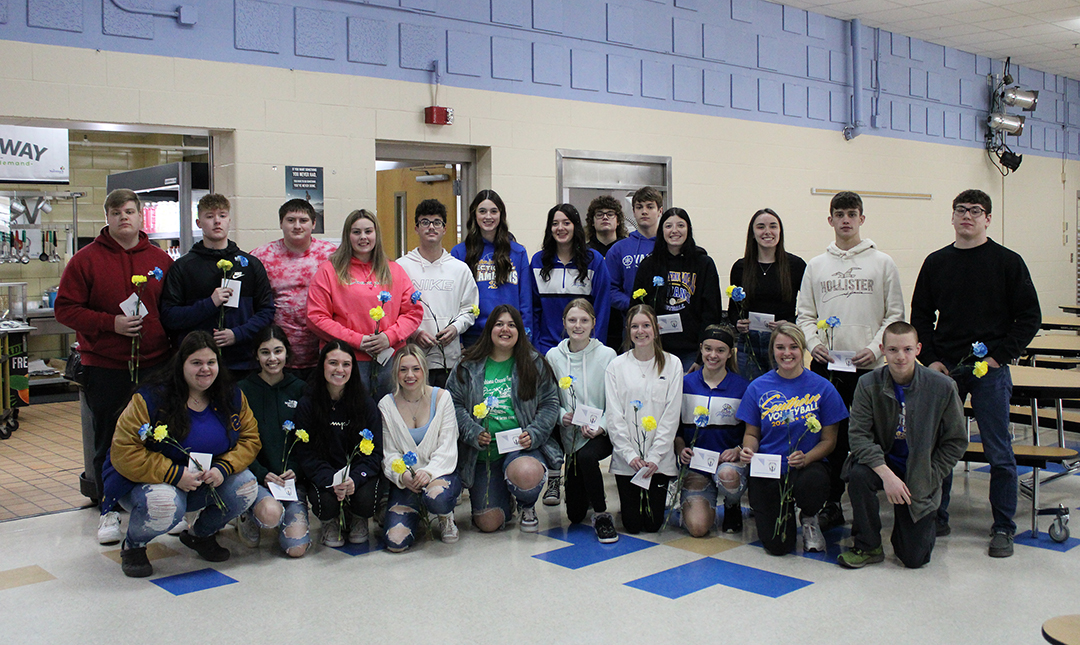 2023 NHS Inductees
front row (l to r): Rebecca Hawke, Katie Calderon, Paige Riggs, Lillian Patterson, Natalie DeSellem, Alexis Ensinger, Lindsay Bregar, Ashley Shroades, Aleah Bach, Evan Haught
back row (l to r): Gavin Tribelo, Charlie Price, Hunter Robinson, Kya McCulley, Brady Ketchum, Olivia Kerns, Josie Stanley, Aiden Brothers, Tyler Rawlings, Rylee Mellott, Esther Forbes, Maddox Dickey, Gabe Blissenbach not pictured: Payton Hersman, Corbin Stillwell, Ayden Frischkorn, and Seth Hawk
Southern Local District
Spelling Bee Winners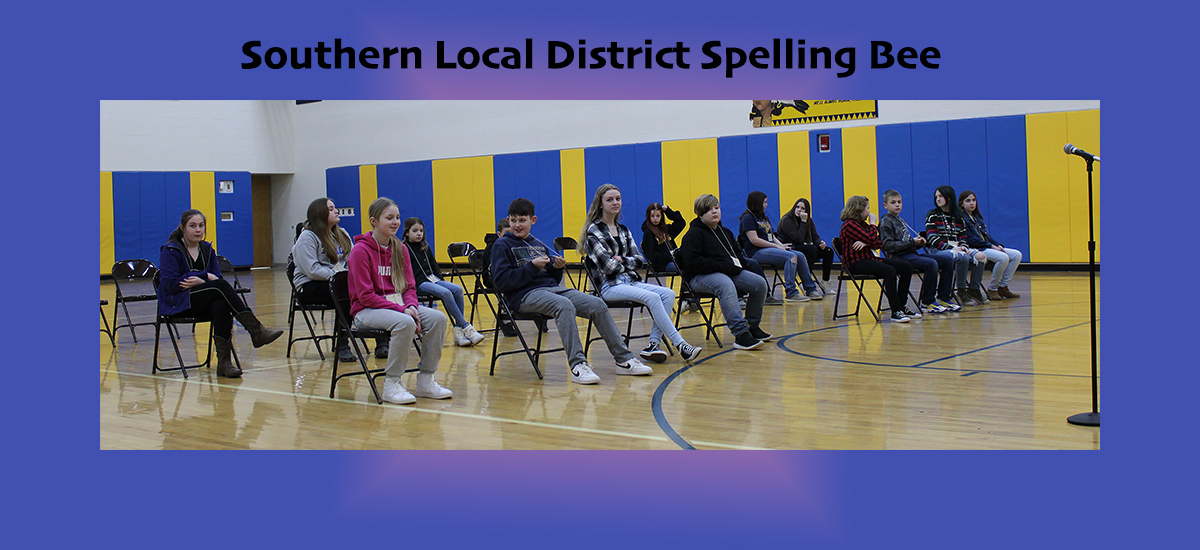 Congratulations!
Southern Local held their annual Spelling Bee, Wednesday February 15 in the Elementary Gymnasium. Students from grades 5 through 8 participated in the Spelling Bee. They include: 5th Grade: Landon Cranston, Gemma Jackson, Jaymen Maines, Liam Pitts, and Maddie Smith 6th Grade: Addysin Andrenok, Bryton Beadle, Eliana Forbes, Brook Hickman, Lucie Lee, and Daniel Peters 7th grade: Delaney Beadnell, Emerson Gotschall, and Gracie Lee 8th grade: Ava Reed and Ella Roberts. The County Spelling Bee will be held Saturday March 4 at 9:30 at the Crestview Performing Arts Complex.
By round 4, we had our three representatives and a total of 19 rounds to determine who the 2023 1st place champion would be for the County Spelling Bee. Sixth grader, Daniel Peters is our 3rd place winner. Seventh grader, Delaney Beadnell is our 2nd place winner. Eighth grader, Ava Reed in our 1st place winner. Congratulations to our winners!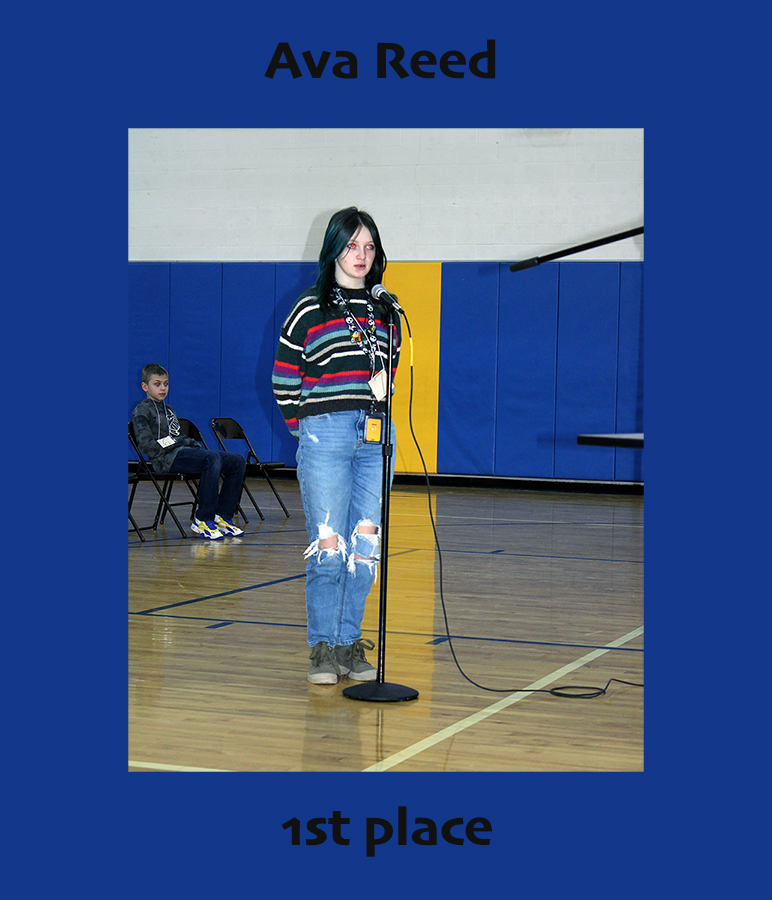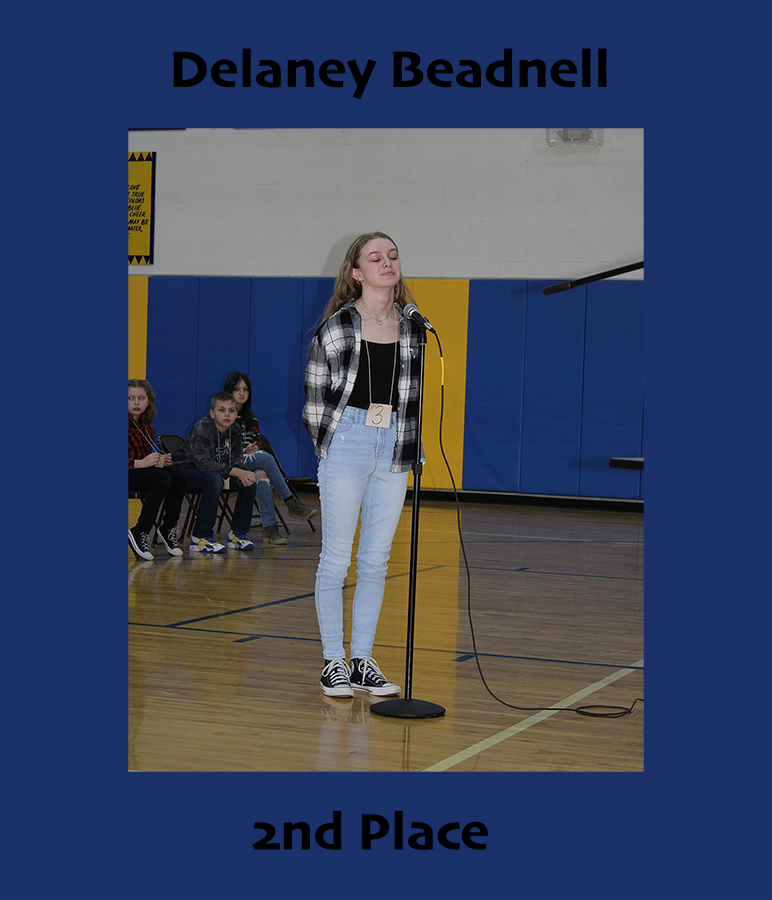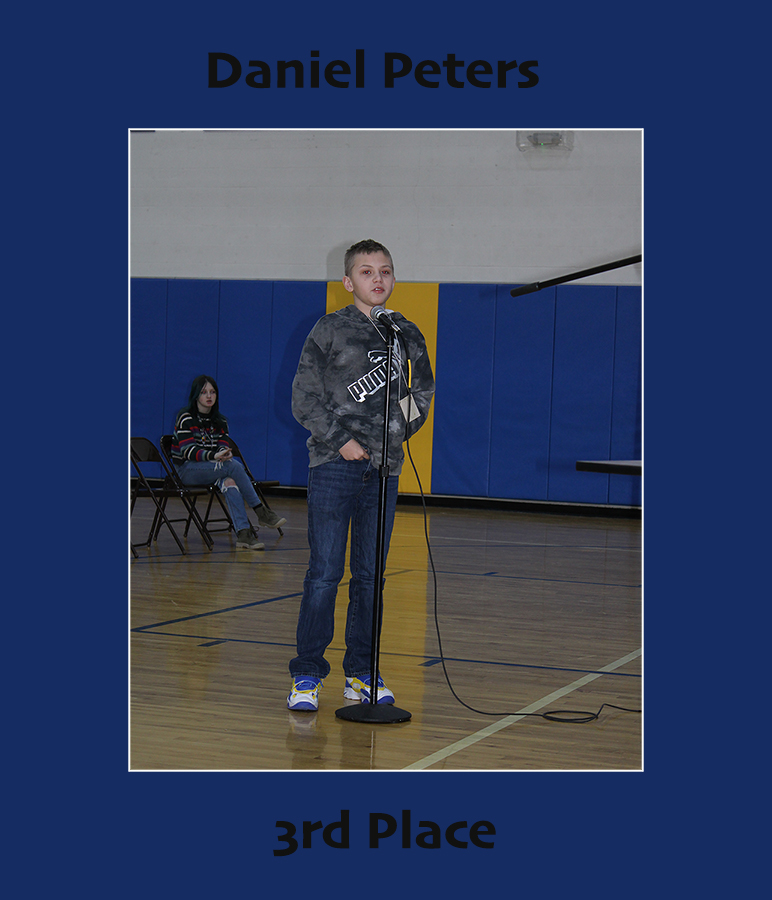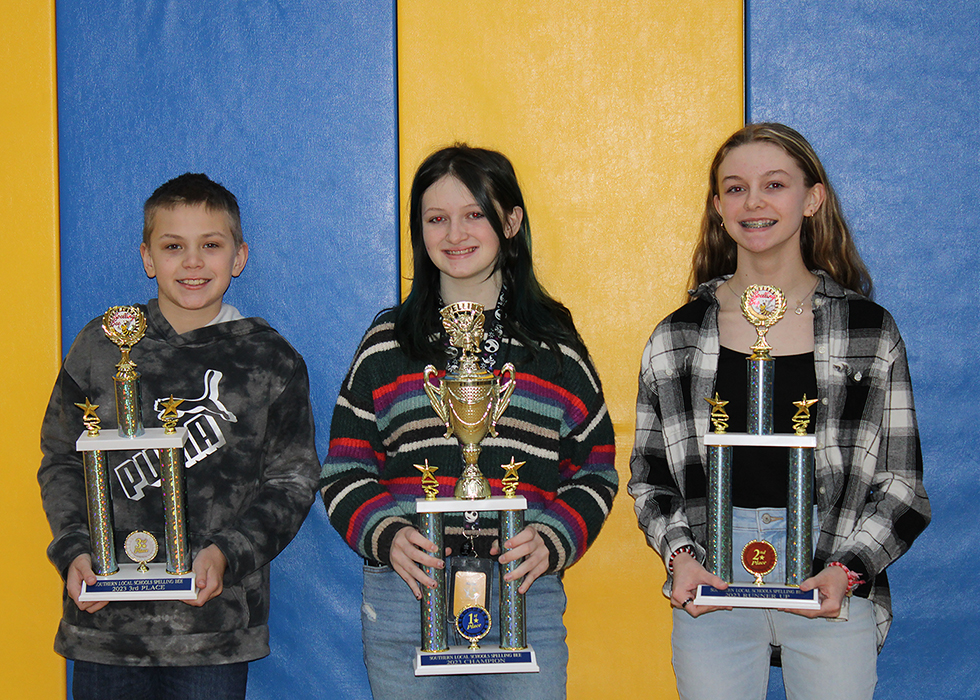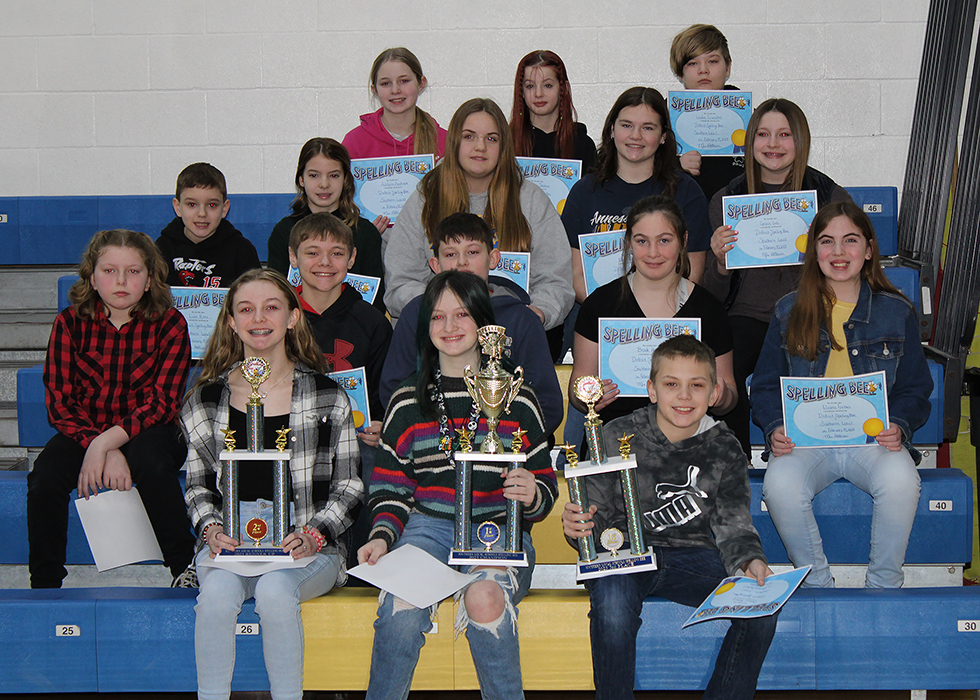 Row 1 (l to r): 2nd place Delaney Beadnell, 1st place Ava Reed, 3rd place Daniel Peters
Row 2 (l to r): Lucie Lee, Jaymen Maines, Bryton Beadle, Brook Hickman, Eliana Forbes
Row 3 (l to r): Liam Pitts, Maddie Smith, Emerson Gotschall, Ella Roberts, Gracie Lee
Row 4 (l to r): Addysin Andrenok, Gemma Jackson, Landon Cranston
2023 Winter Homecoming Court
CONGRATULATIONS KING AND QUEEN!
2023 Winter Homecoming King, Colton Soukup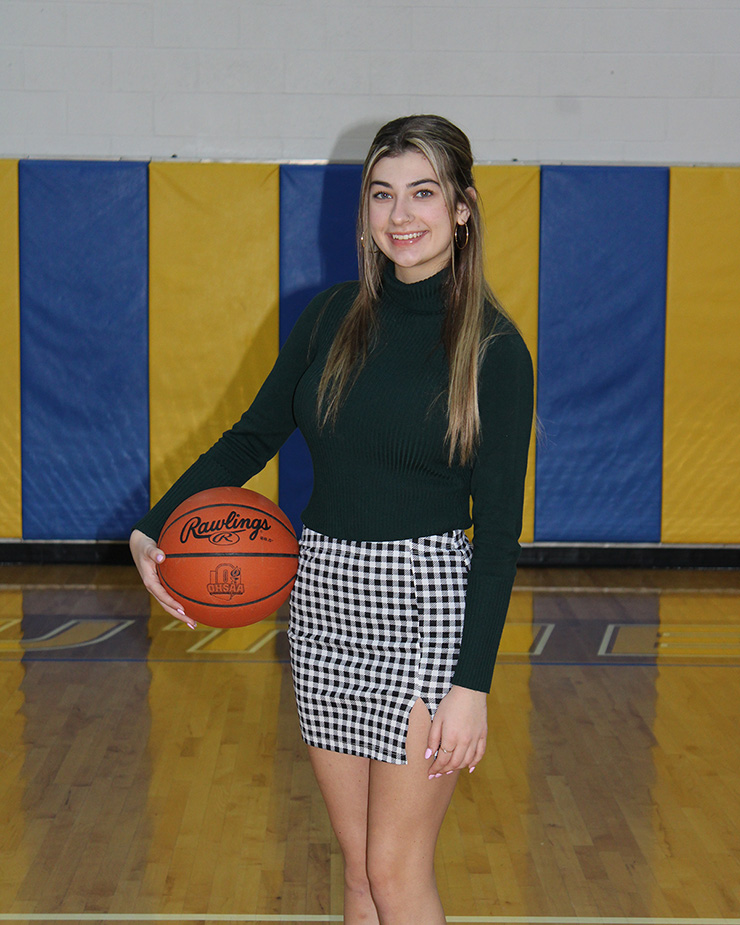 2023 Winter Homecoming Queen, Grace Brothers
2023 Winter Homecoming Court
The King and Queen will be crowned Saturday, January 28, 2023 during the Wellsville game. The dance will be held Saturday, February 4, 2023 in the high school cafeteria 7 to 10pm.
Pictured left to right: Colton Soukup, Katie Calderon, Zack Tribelo, Grace Brothers, Cooper Edmiston, Andrea Rodgers, Landyn Bess, Emma Black, Cameron Sloan and Olivia Kerns.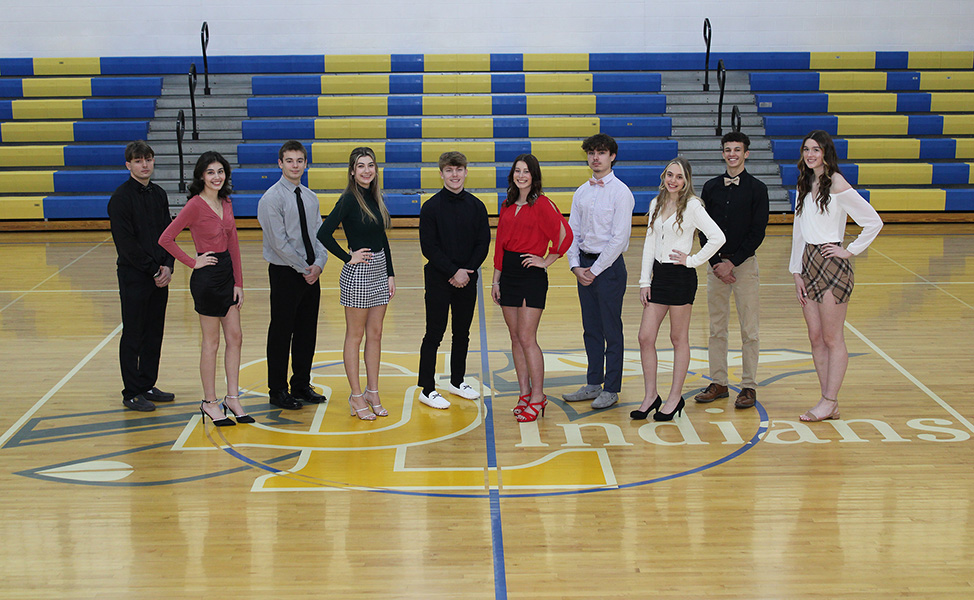 Congratulations!

Southern Local's football team made school history this year again. Game one was October 28 @ the Wigwam against South Central. The Indians defeated South Central with a score 65-21. They advanced to game two with St. Paul on November 4. They have played St. Paul two years straight. This meeting was the third time the two teams have played. This time, at the Wigwam, the Indians defeated St. Paul with a score 42-22. The third playoff game with Warren JFK on Saturday, November 12, ended the team's hope for a championship. The night ended with a score 0-35. They end the season with 11-2 record.
Since 2018, Coach Wright and his teams have been in the playoffs. The seniors would have been 8th graders in 2018. For them, they have played a part in making Southern's history. Southern has played game one of the playoffs on the road 2018, 2019, & 2020. They hosted their first playoff game in the Wigwam in 2021 and played their first game 2 that year. In 2022, They hosted both playoff games at the Wigwam and advanced to Game 3, the semifinals. They are the first team to make it to the Division VII Region 25 semifinals in Southern Local school history. Congratulations for the great season!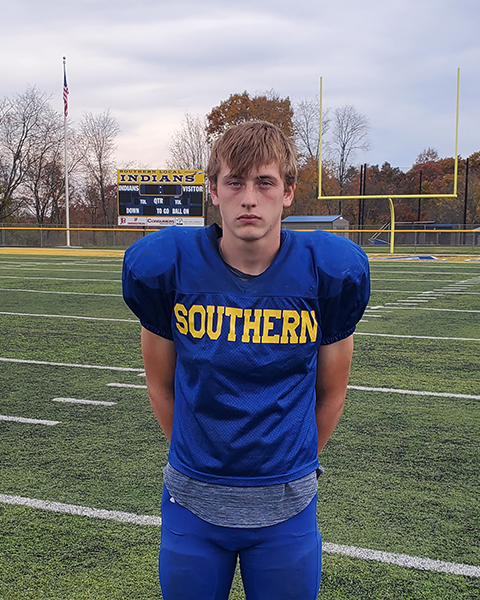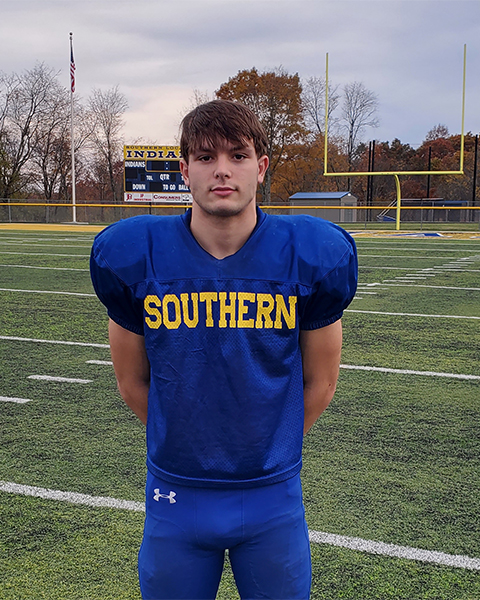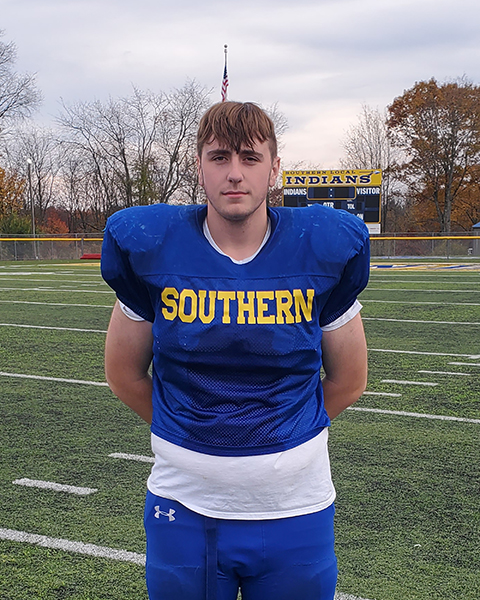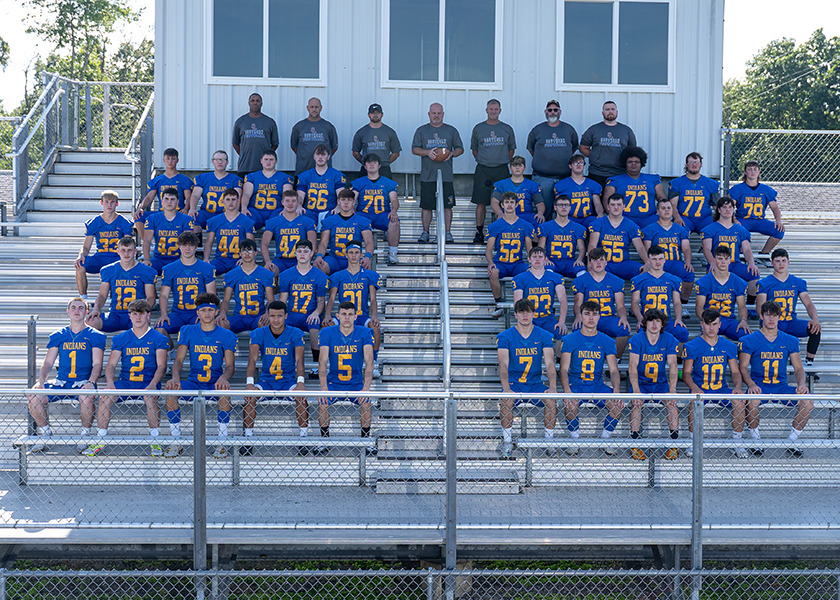 2022 team picture at the beginning of the season.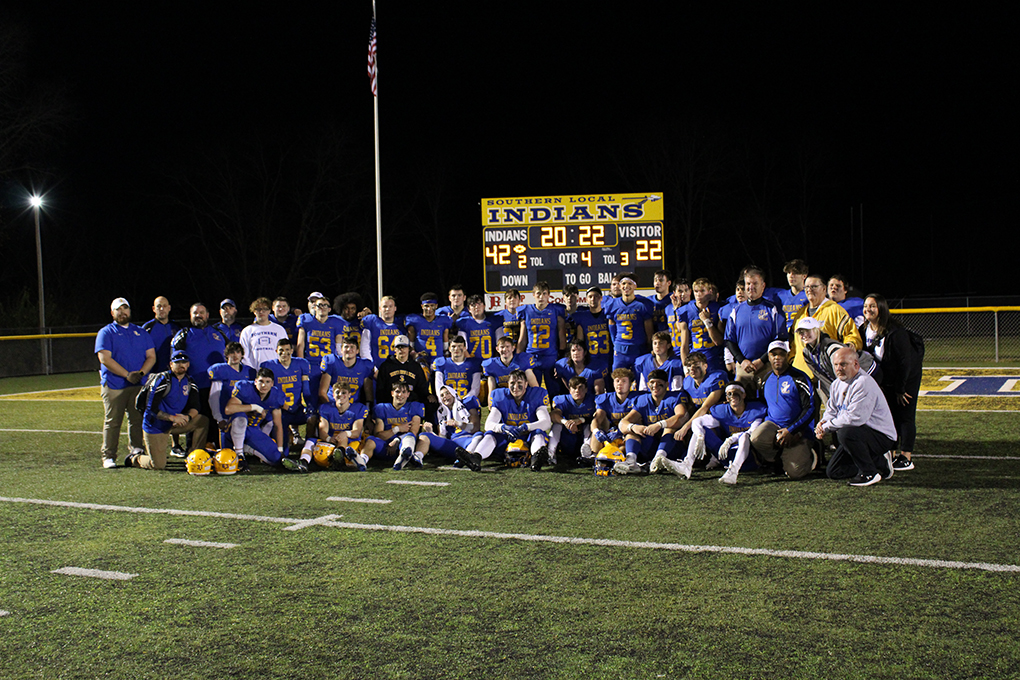 The Football Team with an 11-1 season, makes school history winning game 2 of the playoffs.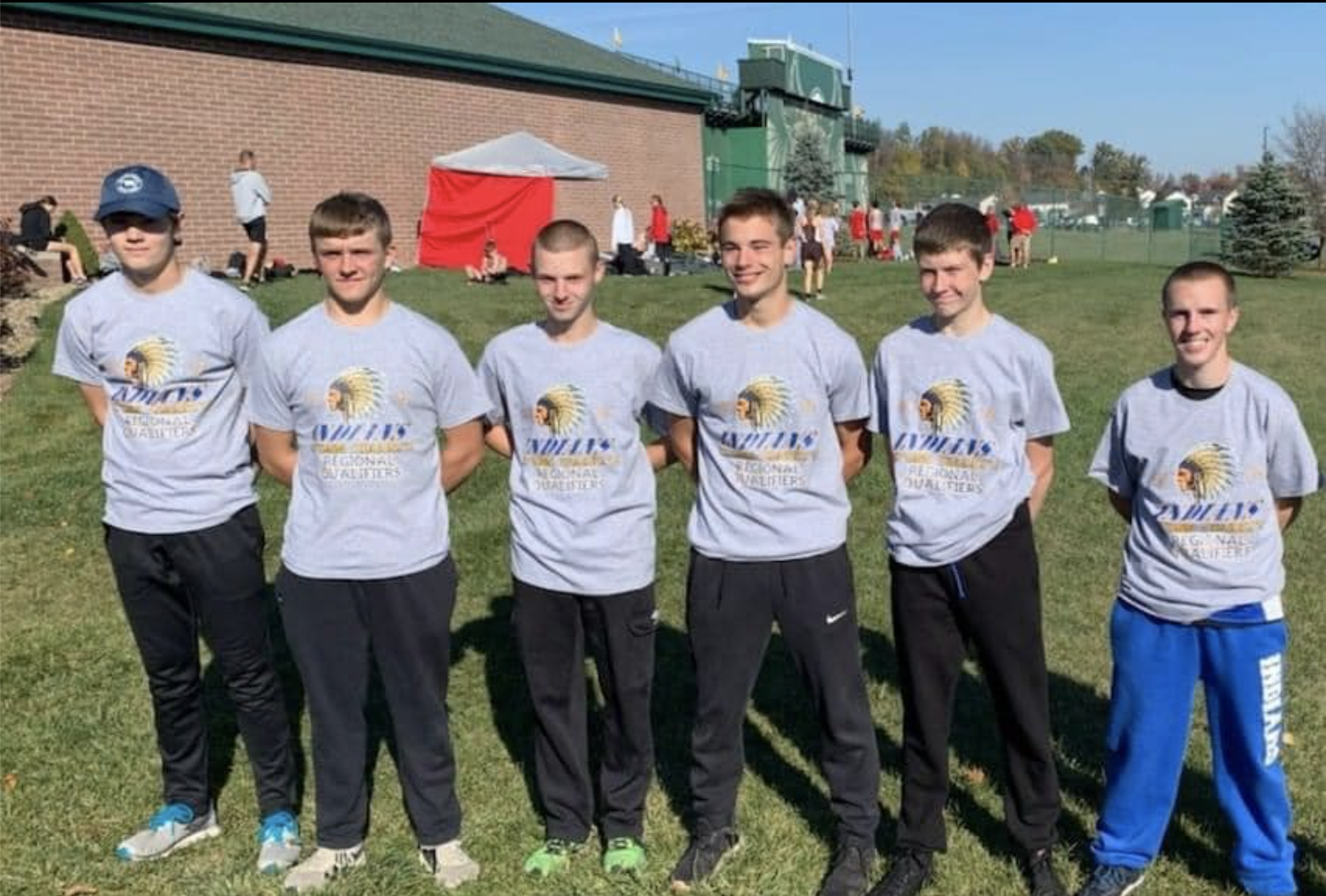 Boys Cross Country Teams Makes History
The 2022 Boys Cross Country Team made school history!
The historic accomplishments this team made are:
1st Southern Local Cross Country Team to place in top 2 at the County Meet
Highest place in Suburban League Regular season meet
Highest place in Championship meet
EOAC Champions
OVAC 1A/2A Champions
1st Southern Local Cross Country Team to qualify for the Regionals
Most wins in a seasons 50+
Logan Redfern place 26th, top 16 move on to State. Congratulations on your journey!!
Team Members: Tyler Rawlings, Robbie Marra, Evan Haught, Zack Tribelo, Logan McCartney, Logan Redfern, and Aiden Brothers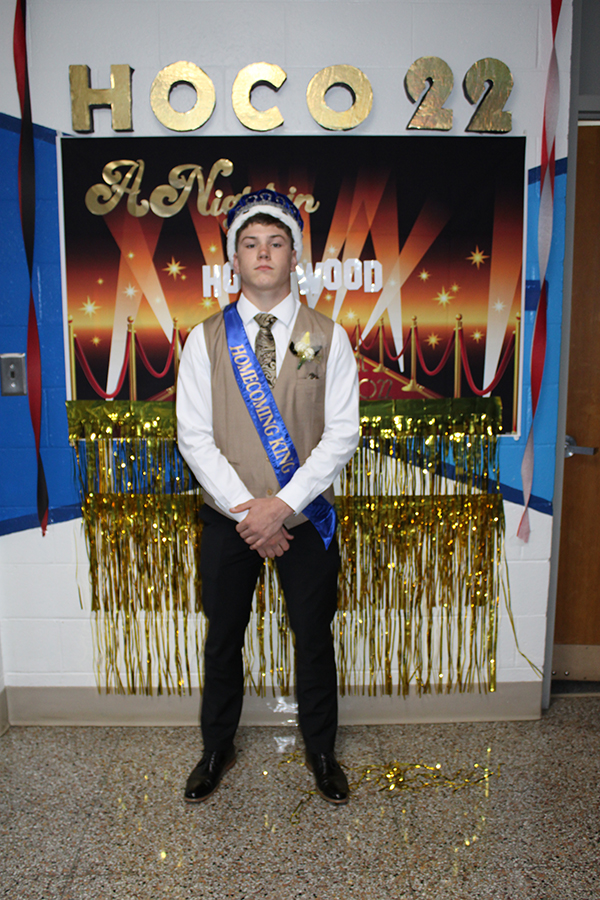 2022 Fall Homecoming king, Gabe Blissenbach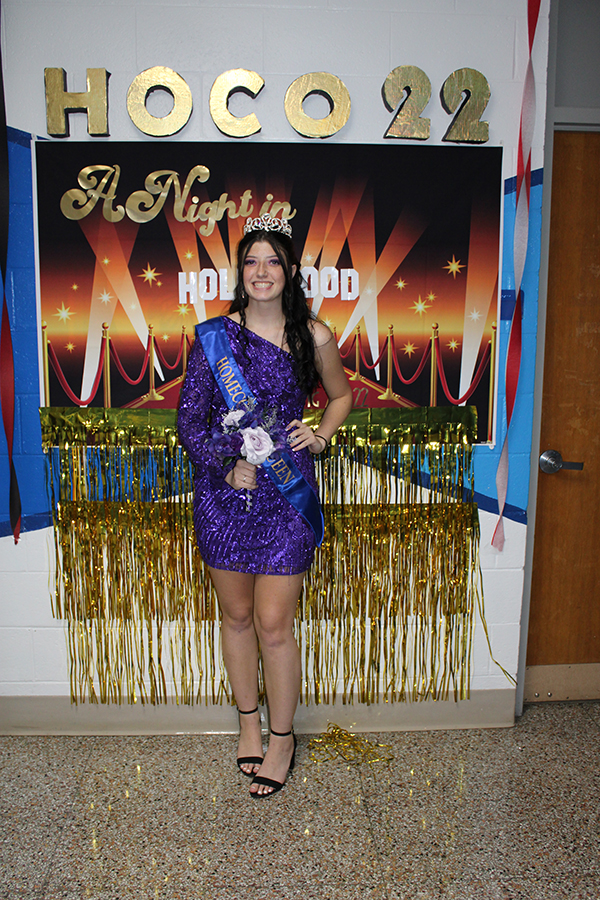 2022 Fall Homecoming queen, Rylee Mellott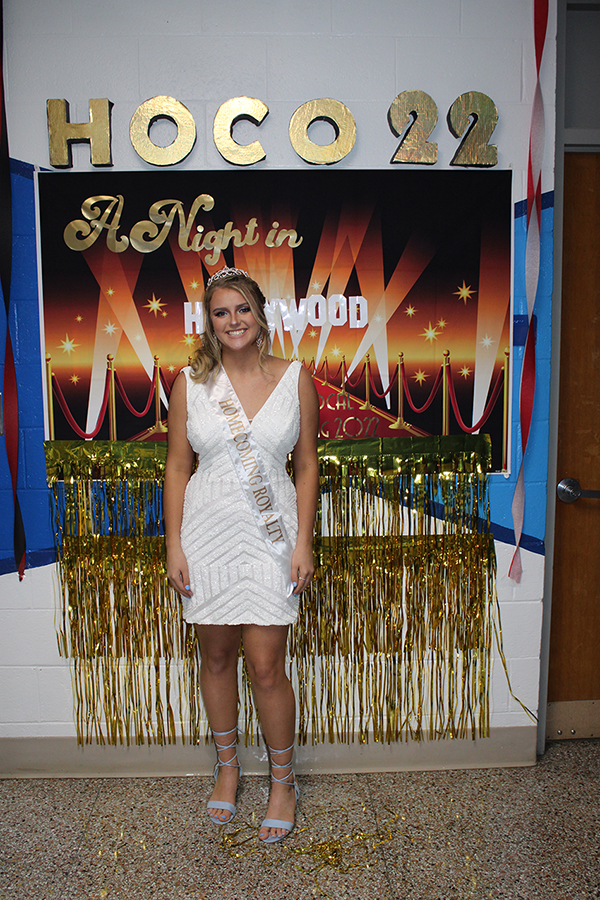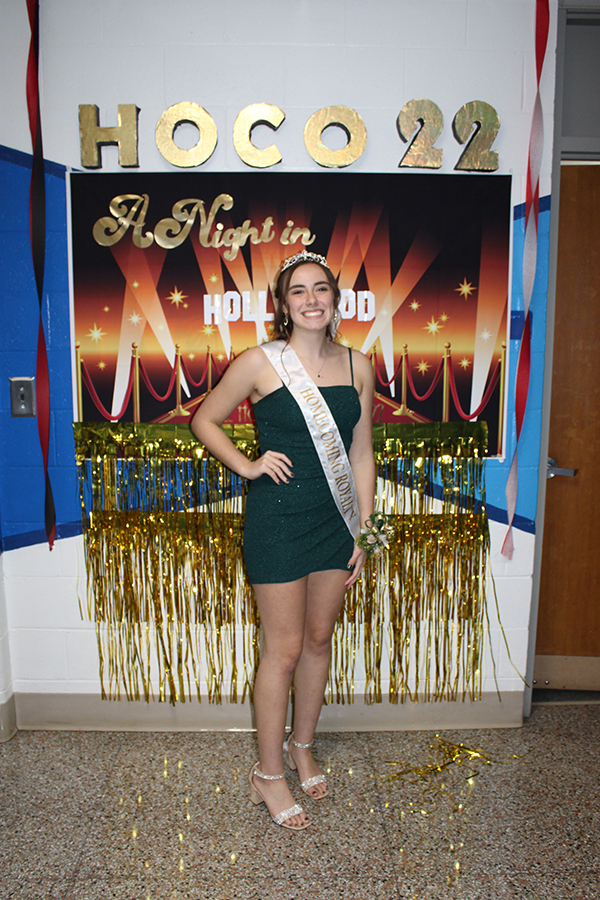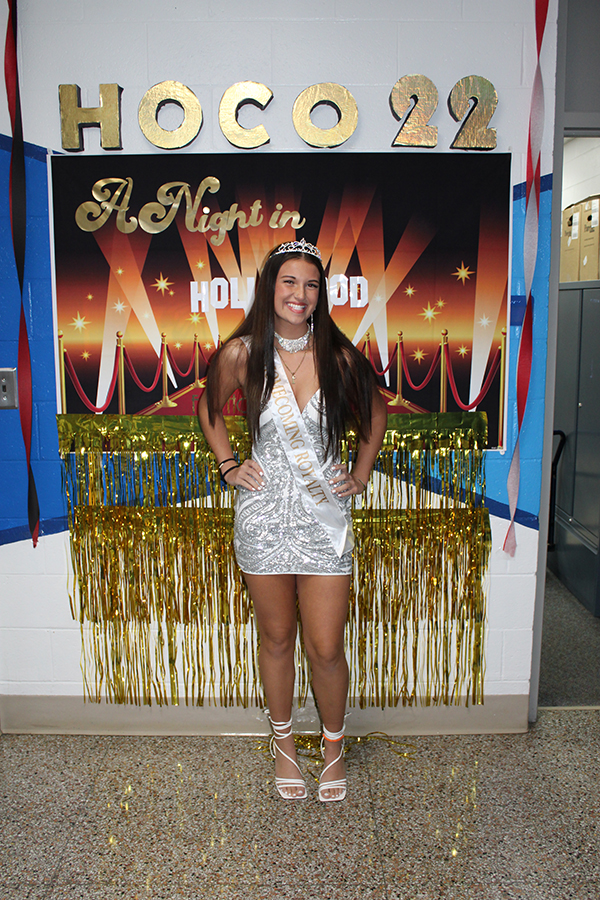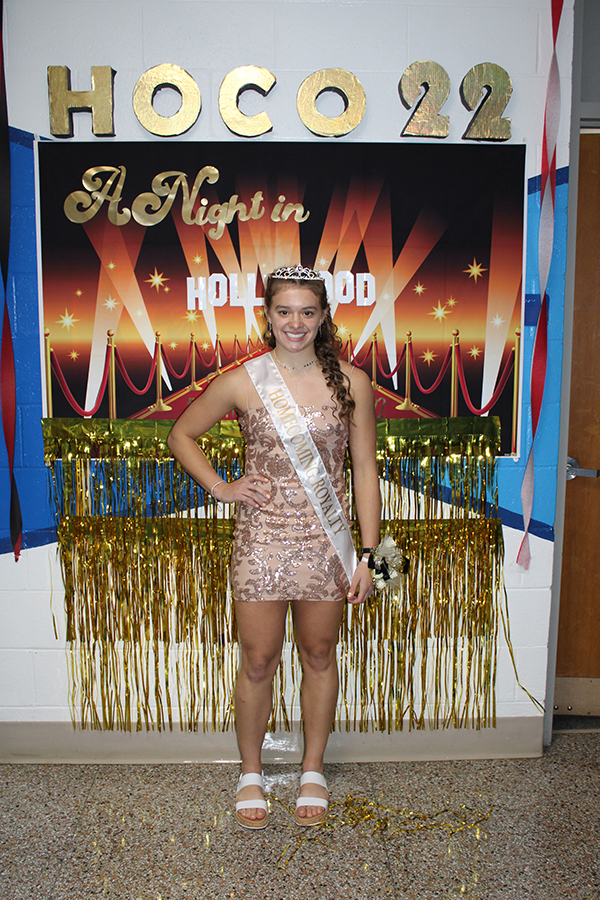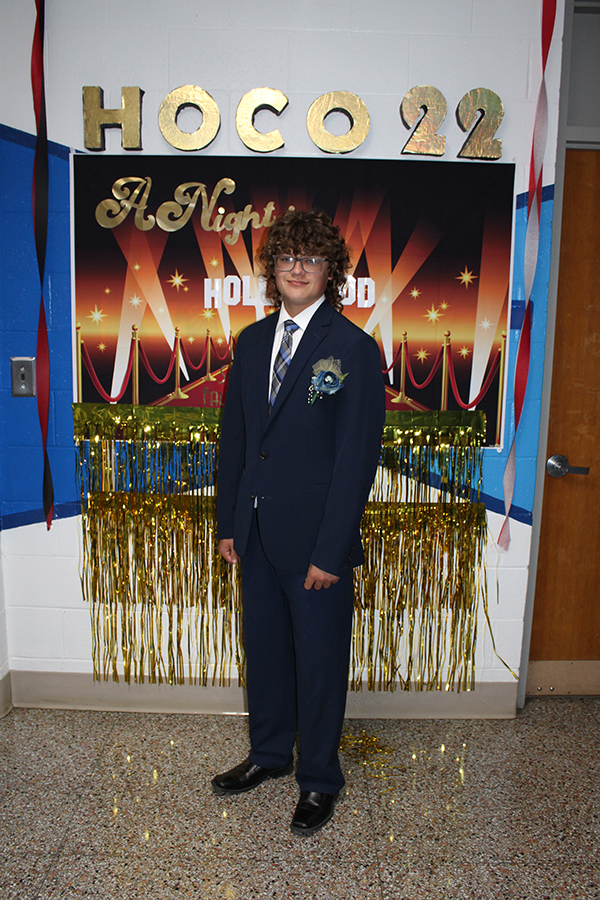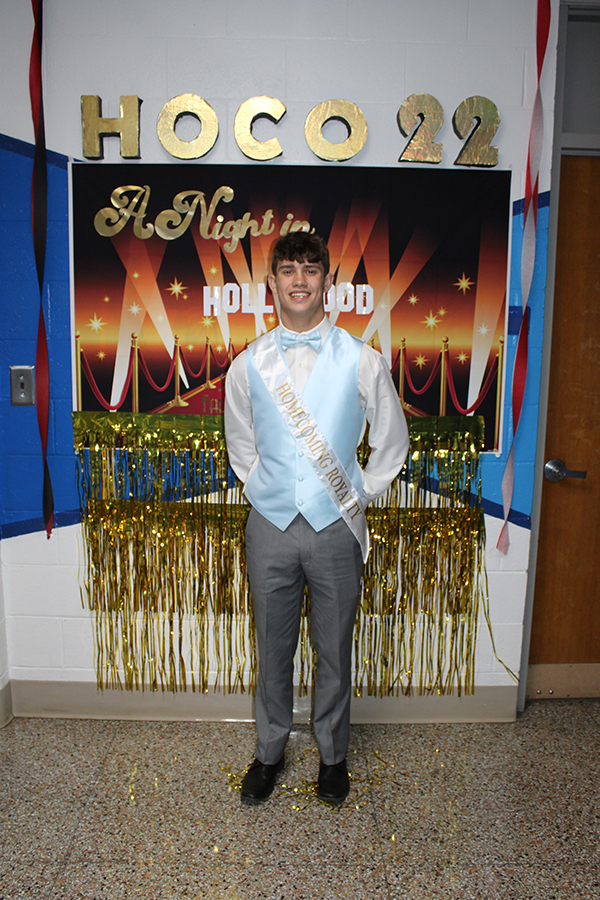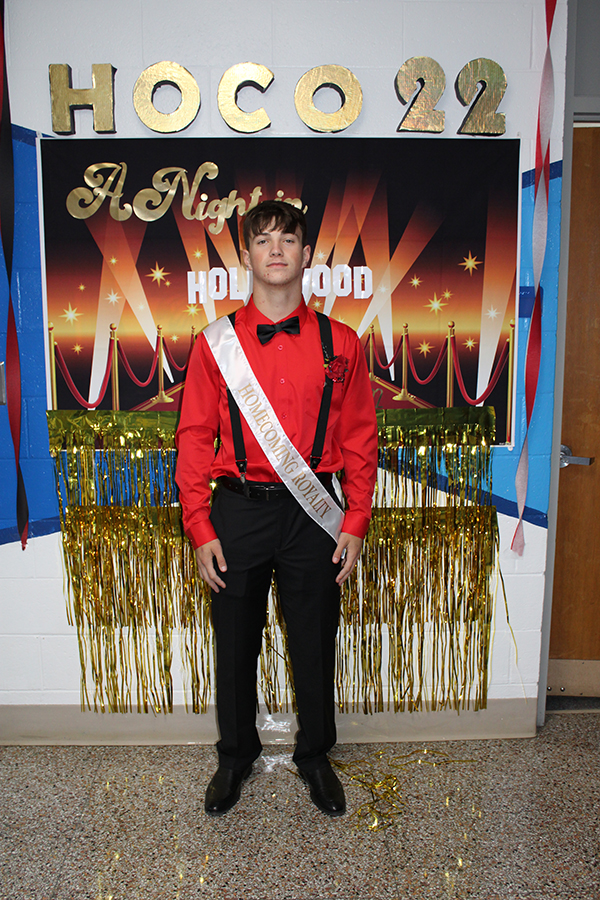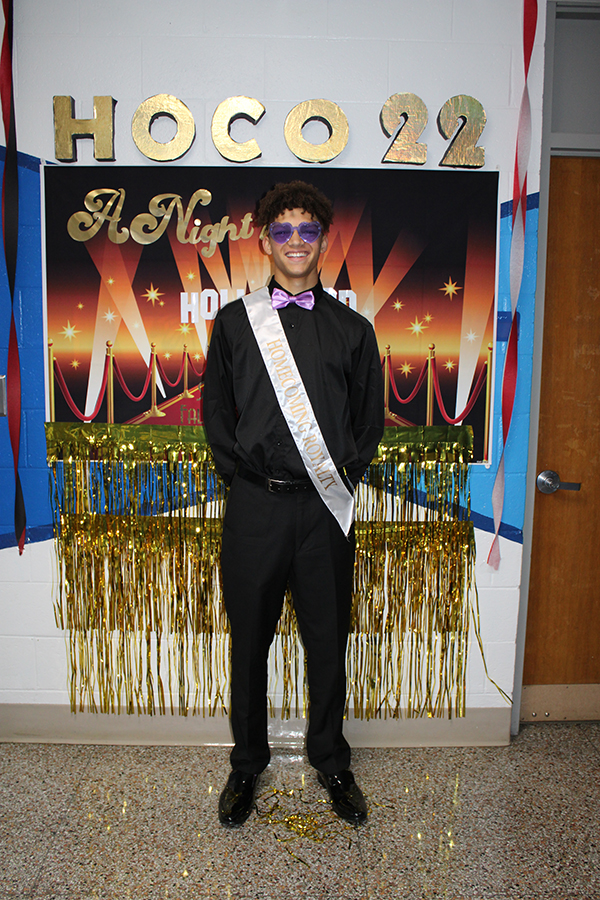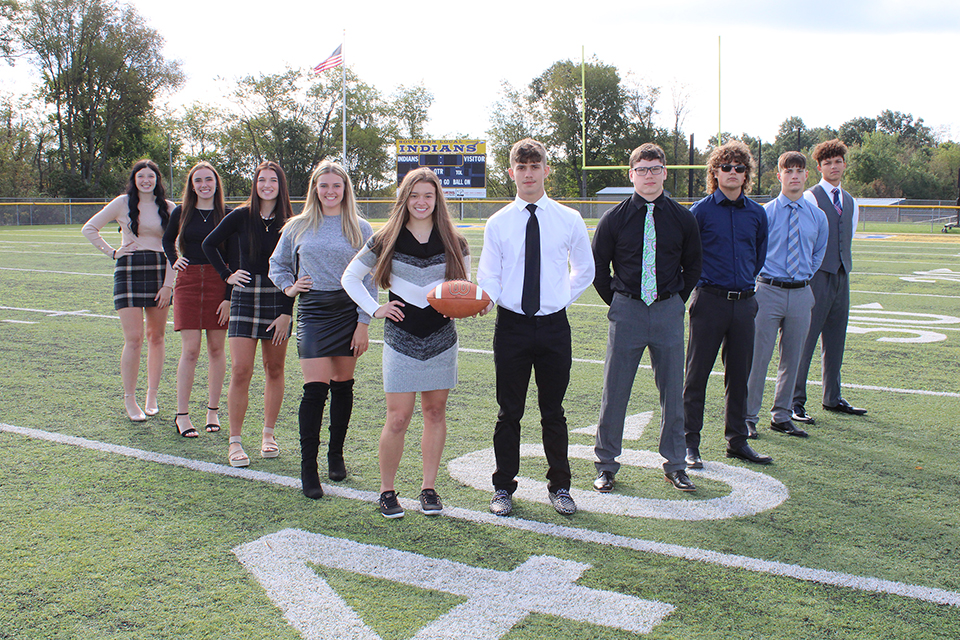 2022 Fall Homecoming Court
Congratulations to the 2022 homecoming court! Pictured left to right: Rylee Mellott, Esther Forbes, Paige Riggs, Aleah Bach, Ashley Shroades, Maddox Dickey, Gabriel Blissenbach, Aiden Brothers, Frank Shagnot, Markell Smith
From the Guidance Department
Parents and Students,
An email was sent to all students in grades 9 through 11 about practice tests for the End of Course exams. The link to the practice End of Course exams is:
https://login2.cambiumtds.com/student_core/V91/Pages/LoginShell.aspx?c=Ohio_PT&a=Student
Students will follow the steps to enter the practice test:
Click on Guest User
Typer your First Name
Type your Student ID number (if the student does not know this, contact Mrs. Smith at 330-679-2343 ext 4013.)
Please take advantage of these practice tests!! If you have any questions, please contact Mrs. Smith.
The SchoolSafe ID requires a valid driver's license or state ID to enter the building.
"Southern Local Jr. Sr. High will be a safe place of excellence, where all students are connected and striving to reach their full potential."
"Creating Confident Communicators and Problem Solvers to serve as productive members of society"
"T.R.I.B.E." (Trust - Respect - Integrity -Belief - Excellence)